AWS vs Azure vs Google Cloud
Discover the comprehensive comparison of Amazon Web Services (AWS), Microsoft Azure, and Google Cloud Platform (GCP) across market share, service offerings, pricing, security, and performance.
In today's fast-paced digital landscape, cloud computing has become the backbone of many businesses, offering scalability, reliability, and cost-effectiveness. Three major players in the cloud industry are Amazon Web Services (AWS), Microsoft Azure, and Google Cloud Platform (GCP).
1. Market Share and Adoption
Market Share (as of 2023)
AWS: 32.4%
Azure: 20.7%
GCP: 9.5%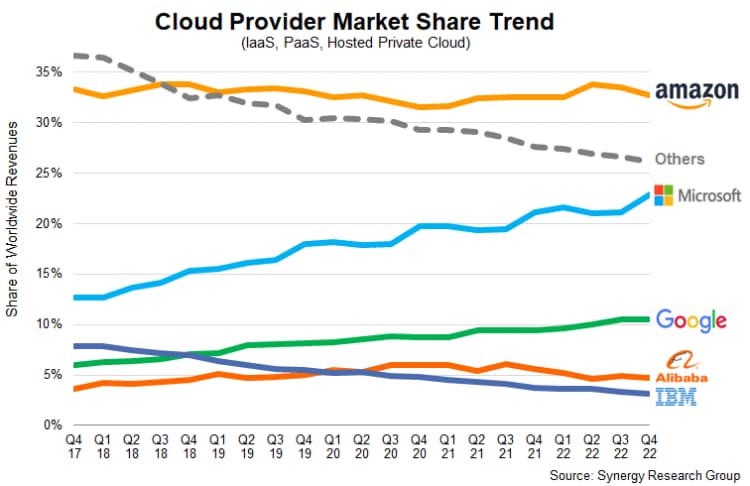 Adoption by Industry
| Industry | AWS | Azure | GCP |
| --- | --- | --- | --- |
| Retail | 32% | 18% | 8% |
| Financial | 28% | 19% | 9% |
| Healthcare | 26% | 15% | 8% |
| Government | 33% | 20% | 7% |
| Gaming | 35% | 19% | 10% |
Source: Flexera 2021 State of the Cloud Report
2. Service Offerings
All three platforms offer a comprehensive suite of services, including:
Compute Services:
AWS: EC2, Lambda, Elastic Beanstalk
Azure: Virtual Machines, Azure Functions, App Service
GCP: Compute Engine, Cloud Functions, App Engine
Storage Services:
AWS: S3, EBS, Glacier
Azure: Blob Storage, Managed Disks, Azure Files
GCP: Cloud Storage, Persistent Disks, Cloud Filestore
Databases:
AWS: RDS, DynamoDB, Aurora
Azure: Azure SQL Database, Cosmos DB, SQL Server on VMs
GCP: Cloud SQL, Firestore, Bigtable
AI and Machine Learning:
AWS: SageMaker, Rekognition, Comprehend
Azure: Azure ML, Cognitive Services, Databricks
GCP: AI Platform, Vision AI, NLP
3. Pricing and Cost Management
Price Structure
AWS: Pay-as-you-go, reserved instances, spot instances.
Azure: Pay-as-you-go, reserved instances, hybrid benefits.
GCP: Pay-as-you-go, committed use, sustained use.
Comparative Pricing for Standard Virtual Machines (as of 2021)
| VM Type | AWS (Linux) | Azure (Linux) | GCP (Linux) |
| --- | --- | --- | --- |
| Standard B2s | $0.034/hour | $0.032/hour | $0.031/hour |
| Standard D2s | $0.226/hour | $0.175/hour | $0.169/hour |
| Standard F2s | $0.080/hour | $0.064/hour | $0.052/hour |
Source: Cloud Provider Websites
Cost Management Tools
AWS: AWS Cost Explorer, AWS Budgets, Trusted Advisor.
Azure: Azure Cost Management and Billing, Azure Advisor, Azure Budgets.
GCP: Google Cloud Cost Management, Billing Reports, Cost Forecasting.
4. Network and Security
Network Services:
AWS: VPC, CloudFront, Route 53
Azure: Virtual Network, CDN, Azure DNS
GCP: VPC, Cloud CDN, Cloud DNS
Security Services:
AWS: IAM, KMS, WAF
Azure: Azure Active Directory, Key Vault, Azure Firewall
GCP: Identity-Aware Proxy, Cloud HSM, Cloud Armor
Compliance and Certifications:
AWS: ISO 27001, SOC 2, HIPAA
Azure: ISO 27001, SOC 2, HIPAA
GCP: ISO 27001, SOC 2, HIPAA
5. Performance and Scalability
Performance:
AWS: Strong global presence with low latency.
Azure: Robust network, competitive performance.
GCP: Emphasis on high-speed connections.
Scalability:
AWS: Auto Scaling, Elastic Load Balancing.
Azure: Azure Autoscale, Azure Load Balancer.
GCP: Managed Instance Groups, Load Balancing.
Conclusion
Choosing the right cloud provider depends on your specific business needs, budget, and existing technology stack. AWS, Azure, and GCP each offer a wide range of services, robust security, and global reach. Analyzing factors like market share, adoption, pricing, services, and performance can help you make an informed decision.
Remember, it's advisable to conduct a thorough cost analysis based on your specific use case before making a final decision. Additionally, considering factors like support, community, and integration with existing systems is crucial for a seamless transition to the cloud.
Similar Posts